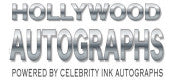 Welcome to Celebrity Ink Autographs
               UACC Registered Autograph Dealer #308 - AFTAL Approved Autograph Dealer #114                 RACC Trusted Seller #184.  The UK's Finest website for authentic comtemporary autographs.
Hello, and welcome to the latest version of the Celebrity Ink Autographs website.  All of our autographs are signed on lab quality 8"x10" photo paper unless otherwise stated.   Our 12"x16" photos now have their own section.  Don't forget to check out our OPX Star Wars blank photos.

Latest to our site is a great selection of Star Wars related autographs from various movies and TV shows across the franchise, including Gin Clarke, Kyle Soller and Felicity Jones.

Captain on the bridge.  We've have listed some awesome Paul Wesley 12"x16" autographs from Star Trek: Strange New Worlds.   All great, bold autographs.

Chevron 7 is locked!   We've just added a fabulous selection of Stargate autographs including Richard Dean Anderson, Michael Shanks, Jason Momoa, Chris Judge and some great cast shots.
Other recent listings include Summer Glau (Serenity / Firefly), Amber Nash (Archer), Vico Ortiz (Our Flag Means Death), Katy O'Brian, Amber Midthunder (Legion) and lots more.
  We've hundreds more waiting to be listed.

For more exciting autographs obtained at theatres, concerts, movie premieres and red carpet events from around the world check out our sister website HOLLYWOOD-AUTOGRAPHS.COM
You will always find our lowest prices here on our main website.  No eBay or Amazon fees here means we can pass on those savings to you.  That's a minimum of 10% more cash in your pocket.

Why not come and visit us on the road at a ComicCon near you?  We always have thousands of autographs to look at.  We've always got plenty more genuine celebrity autographs waiting to be listed, so please sign up to our occasional newsletter for the latest information.  You won't be disappointed.