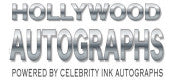 About Us
Welcome to Celebrity Ink Autographs - The UK's Premier Source For Authentic Autographs
UACC Registered Dealer RD#308.  AFTAL Approved Dealer AD#114.  RACC Triusted Seller #184            
Celebrity Ink Autographs are UK based autograph dealers specialising in both vintage and contemporary autographs.  We have been personally collecting autographs since 1993 and have been in the business of buying and selling autographs since 2000.  We are Universal Autograph Collectors Club (UACC) Registered Dealer RD#308. http://uacc.org   AFTAL Approved Autograph Dealer AD#114 and UACC Trusted Autograph Seller #184   We, as a company,  fully abide and comply with all of the UACC, AFTAL and RACC rules and ethics.

Celebrity Ink Autographs are both company sponsors of, and the official after-show sales source of autographs obtained from the Showmasters and Massive Events family of shows and conventions.  We also source our autographs from many of the major autographs event organisers from all over the world.  All of the autographs that we sell are either obtained in person by one of our team, or from impeccable sources in the autograph collecting community  WE ONLY SELL ORIGINAL AUTOGRAPHS.   We do NOT sell, copies, facsimiles, secretarial or autopen autographs.  Each autograph is sold with a uniquely numbered, tamper evident  label.  This number will match the number printed onto our Certificate Of Authenticity.  We hold a master record of all of our autographs sold and can immediately confirm the authenticity of each item.  We hope to make this database publically available in due course.   Above and beyond your statuatory rights set out under the UK Distance Selling Regulations, each and every autograph that we sell comes with a 100% money back authenticity guarantee as stiplulated by the RACC, AFTAL and UACC dealer code of ethics.
We have multiples of many of our autographs, and as such, the actual autograph position may vary slightly from the autograph pictures shown on our site.  If the change of autograph position is considerable, if the signer adds a comment or if another colour pen was used than in the item photo, then we will contact you for approval before shipping that particular autograph,  All of our autographs are on 8" x 10" high quality photographic paper unless noted against the individual items details.  None of our autographs are dedicated.  All of our autographed photos are in new undamaged condition unless otherwise noted.  The photo and autograph are usually look much nicer than the scanned picture.
We list our autographs alphabetically by the first letter of the first name of the actor or actress.  If we have identified the film/TV show that the photo relates to and the character that the actor or actress plays, then we will list under both the film/TV show name as well as that of the actor or actress.   We've tried very hard to find correct character names, film and TV show titles to match the photos that our celebrities have signed,  If you can help us identify the few that we just can't work out, or if you think we've got the character, film or TV show incorrect, please let us know so we can update the details on our database. 
All autographs are shipped bagged, backed with hard plastic boards and posted inside custom made postal mailers.  ALL autographs are posted using a postal service requiring a signature on delivery or a scanning of a barcoded label.  Royal Mail Signed For or Special Delivery in the UK or International Signed Tracked And Signed for international orders.  Very large international orders will be sent by UPS or FedEx.  
We currently accept card payments by Visa, Mastercard, Visa Debit, Mastercard Debit, Maestro, Amex and JCB through the secure Worldpay online payment system.   We also accept payment by Paypal.  We do not accept postal orders or cheques at this time.
Customer satisfaction is our constant goal, as as such, we value your comments and feedback.  Please phone or email us if you have any questions whatsoever.  We'll be pleased to help.
Celebrity Ink.  Bringing Hollywood Home.
Celebrity Ink Autographs , PO Box 431, Dover, Kent, CT16 9ED  UK                                                                                                           
UK Telephone: 01304-832335                 Outside the UK phone:  44-(0)1304-832335
email: sales@celebrityinkautographs.co.uk
UACC Registered Dealer RD#308.           AFTAL Approved Dealer AD#114,           RACC Trusted Seller #184
Our office hours are 0900 - 1730  Monday to Friday. Outside these hours we have an 24 hour answerphone available.  Our American customers need to remember that the UK is 5 hours ahead of EST.  We aim to reply to all emails within one working day.
Facebook:  www.facebook.com/CelebrityInkAutographs
Company registration details:  Celebrity Ink Autographs Limited (Company Number: 08818645).  Registered Address: 71 New Dover Road, Canterbury, Kent, CT1 3DZ..  Please do not post anything to this address as it is a Company Registration address only.
All images and logos on this website are copyright (c) their respective owners and are used under fair usage with no copyright infringement intended.  All rights reserved.  All autographed images are copyright (c) and may not be copied for any reason.