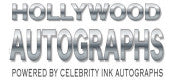 Delivery Information
All autographs are shipped with plastic backers, padded with cardboard inside custom made postal mailers.  ALL autographs are posted by a a postal service requiring a signature on delivery.  Royal Mail Recorded or Special Delivery in the UK or Airsure (where available) or International Signed For for international orders.  Very large international orders will be sent by UPS or FedEx.  We only ship internationally by Airmail.  No Surface mail, sorry.  International customers, please do not ask us to reduce shipping invoice values for the evasion of tax or import duties as we will not do it.  Thank you for your understanding.
Important Notice.  German Customers. We do not ship to Packstations in Germany.  Packstations do not have the facility to accept parcels shipped Signed For and as we only ship using this method we cannot therefore ship to packstations.  A residential address must be used for all German customers.
You can see a shipping estimate for your order before you pay at checkout.  Any questions, please let us know,
IMPORTANT.  We do not ship to South American countries due to the aggresive import taxation on Signed For commercial items posted to certain countries there.  PLEASE do not order from this site if you are a resident in South America as we will have to cancel your order.  Currently we cannot remove South American countries from our checkout so even though it is actually possible for you to physically place your order, we will not fulfill your order and will refund you.  This issue is only with South American Countries.  We are sorry that blocking South American customers has become necessary.
We default UK shipping to Royal Mail Special Delivery for orders of five autographs or more.  Royal Mail Recorded gives cover for loss only upto £46 as at 2nd April 2012.  Orders of three autographs or more will generally cost more than £46.  Hence the switch to Special Delivery.  Special Delivery insures your order up to £500 for the basic service (plus priority delivery and tracking).  We want your order to arrive safe and sound and will always endeavour to achieve this in the most practical, safe and cost-effective way for you, our customer.  UK VAT was added to most inland Royal Mail shipping charges in April 2012.  We have had to pass these costs on in our shipping charges to customers.
At this time, the maximum number of autographs that can be ordered at any one time on this website is 160.  If you wish to place an order for more than 160, please ask us and we'll provide shipping quotations.  For orders over 25 pieces, we have capped the shipping costs for both UK and International orders.  Each autograph will be bagged, but will not come with an individual plastic backing board.  This keeps the weight and shipping costs down dramatically.  Your autographs will be fully protected and we hope that you will appreciate the shipping savings.
We at Celebrity Ink Autographs, will endeavor to stick by the promise of delivery times. Whilst every reasonable effort shall be made to keep any delivery date. We shall not be liable for any losses, costs, damages or expenses incurred by the customer or any other person or company arising directly or indirectly out of any failure to meet any estimated delivery date. Other external factors do sometimes affect the delivery time, and we promise to chase all these factors up to help get the goods to the customer within the promised timescale.
Delivery of the Goods shall be made to the Customers address and the Customer shall make all arrangements necessary to take delivery of the Goods whenever they are tendered for delivery. A contact telephone number is required in order for our couriers to dispatch the goods at a convenient time.
Please allow up to 28 working days delivery time. This obviously depends on the quantity and nature of the customers order.
In compliance of the 2014 Distance Selling Regulations customers may cancel their order with us within 14 days of placing the order or within 14 days of the receipt of the goods (whichever is longer). A full refund of the purchase price and any delivery costs will be made provided that the goods have been returned without breach of the statutory duty to take reasonable care of the goods.  Goods must be returned to us in the condition sent.
Shortages
It is your responsibility to sign for the correct number of packages as shown on the delivery or carriers consignment note. If you suspect that there are items missing from the delivery, first check that the order has not been part shipped. Any shortages must be noted on the delivery notes and it is your responsibility to notify us within 2 days of delivery.
Incorrect Goods
It is your responsibility to notify us of any incorrect goods supplied within 2 days of delivery. If the items are not what you ordered, you must not open the manufacturers packaging or use the item.
Non-Deliveries
We will not accept liability for goods lost in transit unless we are notified within 10 days from the expected delivery date.
We shall accept no liability for shortages, non-deliveries, incorrect goods and goods damaged on delivery outside the reported timescale. Except when external and unforeseen circumstances have prevented notification within the reported timescale.
Damaged in Transit
Should there be any damage to the delivered goods, details must be noted on the delivery documentation and it will be your responsibility to inform us immediately, but not later than 7 working days. It is imperative that you do not dispose of any of the packaging, as this will be required to affect your claim against the carrier. We will make a claim against the carrier and arrange for the damaged goods to be collected and replacements to be sent to you.