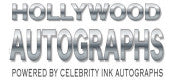 Links
Some direct links to many of the companies that Celebrity Ink Autographs recommend or Associations that we are members of, that you might find mentioned around this site,
Armageddon Expo - The biggest and best collectors events in Australia and New Zealand. http://www.armageddonexpo.com
Celebrity Ink Twitter Link:   http://twitter.com/celebrityinkuk   Follow us for stock updates, discount codes and more.
Collectormania: http://www.collectormania.com/  The UK's biggest and best autograph and collectable events in the UK
Federation Of Small Businesses (FSB):  http://www.fsb.org.uk/     Champions of the small businessman.

Hollywood-Autographs.com    http://www.hollywood-autographs.com     Our sister company specialising movie star autographs obtained at premieres, award ceremonies and red carpet events.

Incognito Comics.  The UK's finest vintage comic book retailer.  http://www.incognitocomics.co.uk
Massive Events: http://massiveevents.co.uk/   Bringing you the very best in UK TV show and movie conventions.
Paypal:  http://paypal.co.uk     Secure online payment service provider.
Showmasters Sales http://www.showmasterssales.com/  Autograph pre-order service for Showmasters and Massive Events
UACC - Universal Autograph Collectors Club:  http://uacc.org/       Founded in 1965 the UACC is a non-profit organization dedicated to the education of the autograph collector.
AFTAL -  http://aftal.org  -   "Autograph Fair Trade Association" ( AFTAL ) was formed by a group of acknowledged autograph dealers, with the intention of stamping out the market in fake items and ensuring that the customer is able to find dealers that they can trust.