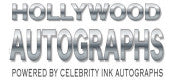 Terms & Conditions
Payment Of Autographs
As Celebrity Ink Autographs are a UK based company all of our autographs must be pre-paid for in Pounds Sterling (GBP),  We currently accept card payments by Visa, Mastercard, Visa Debit, Mastercard Debit, Maestro, Amex through the secure Worldpay online payment system.   We also accept payment by Paypal.  Sorry, but we no longer accept cheques or money/postal orders as payment.  International customers must please remember that currency exchange rates vary daily and that the amount shown on your card or Paypal statement will be in your local currency converted at a rate decided by by your card issuer.    All prices on this website are inclusive of any local sales taxes that might be applicable, but do not include any shipping costs.  Customers are liable for all shipping costs.  Shipping costs are shown before final payment is made during checkout.  We only ship using a service that requires a customer signature on delivery.  This is not the cheapest method of shipping, but it is for both your and our security. 
Authenticity Of Autographs
All of the autographs that we sell are either obtained in person,  or from an agent working for us.  WE ONLY SELL ORIGINAL AUTOGRAPHS.   We do NOT sell, copies, facsimiles, secretarial or autopen autographs.  Each autograph is sold with a uniquely numbered, tamper evident label.  This unique number is also printed on our Certificate Of Authenticity.  We hold a master record of all of our autographs sold and can immediately confirm the authenticity of each item and when and where the autograph was obtained.
We obtain multiples of many of our autographs, and as such, the actual autograph position may vary very slightly from the autograph pictures shown on our site.  If the change of autograph position is considerable, if the signer adds a comment or if another colour pen was used than in the item photo, then we will contact you for approval before shipping that particular autograph,  All of our autographs are on 8" x 10" high quality photographic paper unless noted against the individual items details.  None of our autographs are dedicated.  All of our autographed photos are in new undamaged condition unless otherwise noted.  The photo and autograph are usually look much nicer than the scanned picture.
Availability of Autographs 
All autographs on this site are subject to availability and may be withdrawn at any time.  However it is our policy to contact you if a product is out of stock and if you do not wish to proceed with the order or for any reason we cannot supply the autograph(s), we will arrange for the order to be cancelled.   Quantities may be allocated at our discretion.
Faulty Or Damaged Autographs
Every autograph sent by us should be in great condition.  If you think that the autograph(s)you have purchased is damaged, please let us know straight away.  If needed, you should return the autographs to us.  We will inspect the autograph(s) and if subsequently found not to be faulty the customer will be charged for the return postage. If the autograph(s) are faulty a replacement will be re-sent at our cost or the item wil be refunded if a replacement is no longer available.
Refunds And Returns
If for any reason you are issued with a refund, please note the following,
All refunds will be issued to the same payment method as on the original order.
When a refund is processed, you will receive an email notification.
A refund will usually reach your credit card account within 4 working days, please allow up to 10 working days for it to be credited.
If the autograph(s) are found not to be faulty or they have been damaged by misuse, they will be returned to you and no refund will be issued.

In compliance of the Distance Selling Regulations customers may cancel their order with us within 7 days of placing the order or within 7 days of the receipt of the goods (whichever is longer). A full refund of the purchase price and any delivery costs will be made provided that the goods have been returned without breach of the statutory duty to take reasonable care of the goods.   Above and beyond your statuatory rights set out under the UK Distance Selling Regulations, each and every autograph that we sell comes with a 100% money back authenticity guarantee as stiplulated by the UACC dealer codes of ethics.  http://uacc.org/ethics.php  Goods must be returned at the buyers cost unless found to be faulty.

For orders that are outside of the time-scale of the 7 day returns limit set out in the UK Distance Selling Regulations cancellations will be accepted subject to a minimum-handling fee of 15% of the invoice price to cover re-stocking and administration costs.

All Returns must be sent to: Celebrity Ink Autographs, PO Box 431, Dover, Kent, CT16 9ED securely packaged and in a saleable condition.
Liability Except as may be implied by law and except in the case of death or personal injury where the Customer is dealing as a consumer, in the event of any breach of these Terms and Conditions by us the remedies to you shall be limited to damages which shall in no circumstances exceed the price of the Goods and we shall under no circumstances be liable for any indirect, incidental or consequential damages
Prices
We will make every effort to honour the prices shown (E&OE), but reserve the right to alter prices should it be necessary. Prices ruling at the date of dispatch will be charged. We will inform you of any price increases on your order before shipping.  You can then amend or cancel your order if you wish.
Watermarks
Many of the images on this website will show a "Celebrity Ink Autographs" watermark.  This watermark is NOT on the autographed photo itself.  Watermarks are used by us to prevent the copying of our images.   Copied images might end up for sale as either reprints or even being passed off as original autographs.  We at Celebrity Ink will do everything in our power to prevent such forgeries making their way to the open market, hence the adoption of the watermark.
Exclusions
IMPORTANT.  We do not ship to South American countries due to the aggresive import taxation on Signed For commercial items posted to certain countries there.  PLEASE do not order from this site if you are a resident in South America as we will have to cancel your order.  Currently we cannot remove South American countries from our checkout so even though it is actually possible for you to physically place your order, we will not fulfill your order and will refund you.  This issue is only with South American Countries.  We are sorry that blocking South American customers has become necessary.